A Simple Family-Forward Engagement Party
If any of you have been in my place as a mother-of-the-bride in training, one of my first forays was to host an engagement party. With not a lot of time for planning, I had to move fast and keep it simple. We chose to do a Saturday brunch in our backyard. The menu included egg casseroles with sauteed veggies and artisan sausages, a quinoa salad, fresh fruit tray, and lemon blueberry scones (recipe on the blog). Beverages included our family's famous Bloody Mary's (recipe on the blog), champagne, mimosas and, sparkling water.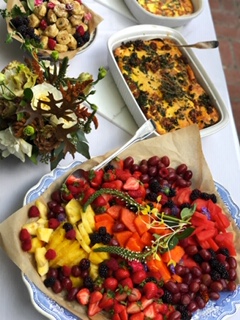 A buffet makes it easy for guests to eat when they want and what they want.
Lemon blueberry scones and gluten free banana mini muffins get a sprinkling of edible flowers for a pop of color. White linen napkins hold the flatware and are tied with two contrasting colors of silk ribbons. They are piled on a vintage purple and white transferware platter. Hint: chose colors that compliment the serving pieces that you already own. Green goes with nature and just about everything else. The bride with her mother takes time to pose for a picture that will become a page in their journey to the big day.