A Ring, a Date..... And a Venue
Wedding season is upon us, and I have a particular interest this year because my daughter, my firstborn, is getting married. As a first-time mother-of-the-bride, I am going to share what I consider to be some of the crucial yet most enjoyable parts of the job. With two weeks to go, it is easy to reflect on how the journey to helping your daughter enjoy one of the best days of her life is so important. Hopefully, something here will help you find fun in the process.
I can think of no better privilege than that of being invited to help pick out my daughter's wedding ring.
My future son-in-law gave me the astute privilege of helping him pick out my daughter's wedding ring. We went to our family's favorite store, Single Stone in San Marino, and the ladies there rolled out the red carpet for us. They put the slight nervous groom at ease and made the experience rather fun.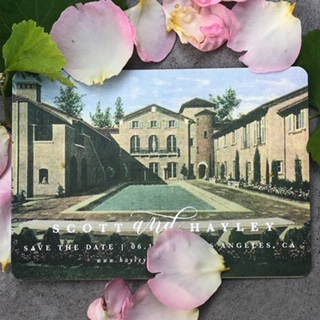 Where you get married is a reflection of your personal style.
The couple fell in love with a 1920's estate at the top of a hill in Los Angeles with views of the Hollywood sign, the San Gabriel Mountains, and the Pacific Ocean. Their decision was made on the spot because everything about the venue spoke to the things they loved - the architecture, the park-like grounds, and the vibe of bygone year. They incorporated the image of the site on the save-the-date card.