Valentine's Day Treats
In my house Valentine's Day is celebrated in a big way - there are gifts, themed food, and we all try to wear the colors of love - pink and red. I start by making my list of who needs a sprinkling of love: daughters, husband, grandparents, teachers, my daughter's roommates, and of course, the janitor where I work.
This year I hit the mother lode at Target for gift bags and containters. They had adorable bags, heart shaped glitter boxes, and gold foil cardboard containers. You can also find a lot of your Valentine themed candy there.
My daughters are getting a Theo chocolate bar. These Seattle-made, organic confections are my favorite and come in luscious flavors like Salted Toffee 55% dark cholate, Salted Almond 70% dark chocolate, Coconut 70% dark chocolate, and Rasberry 70% dark chocolate. Also tucked in their containers is a Love Is Project love bracelet. Follow the link to hear about the inspiring story of how these bracelets help provide sustainable employment for women in rural Kenya and other places arond the world. There is a little bubbly from Sophia Coppola's and a bright pink nail polish. Can you see why having all daughters is so much fun!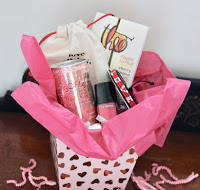 Have fun creating your own gift for that special someone
Everything looks better in pink!