Crying Tiger - Thai-Style Grilled Steak with Dipping Sauce
I am a huge fan of this melt-in-your-mouth Thai steak and order it every time I go to Sticky Rice in Downtown L.A. I didn't know how easy it could be to make until we asked the cooks. Many recipes use rib eyes or New York strips, but we prefer flank or shirt steak. So here you have it. Try the dipping sauce - sorry I love it but bought it instead.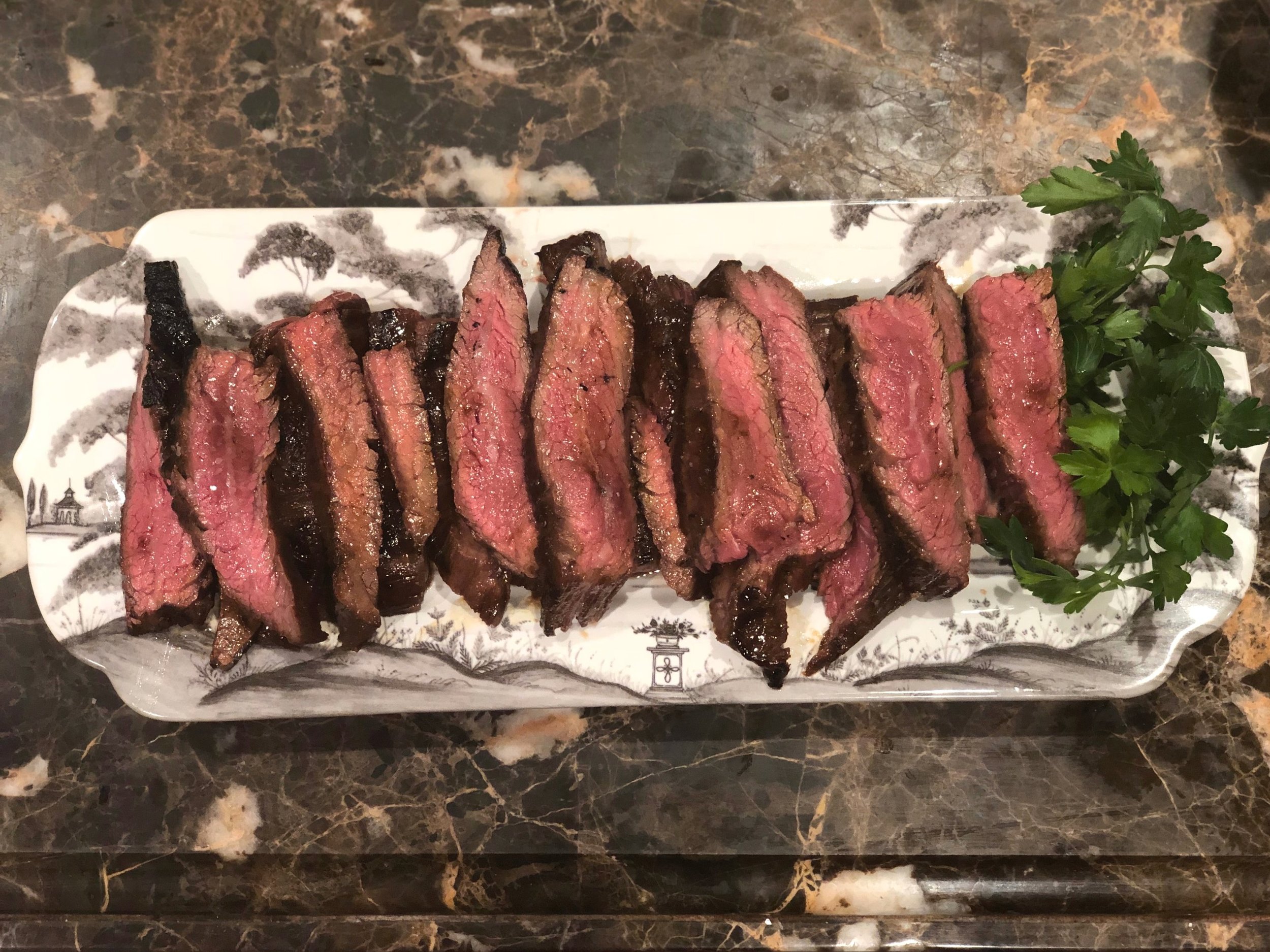 So easy it can be a weekday recipe, but save it for the weekend.
Crying Tiger - Thai-Style Grilled Steak with Dipping Sauce
Prep: 5 min.

Cook: 15 min

Total: 20 min.

Servings: 4
Ingredients
2 lbs. flank steak (not flap or skirt steak)

4 tablespoons dark soy sauce

2 tablespoon oyster sauce

2 tablespoon light or dark brown sugar

2 tablespoon plain vegetable oil

One recipe of Jaew (see related recipe here)

2 plum tomatoes
Directions
Mix together the soy sauce, oyster sauce, brown sugar, and vegetable oil in a medium mixing bowl. Coat the steaks with the soy sauce mixture and let them marinate while you work on the dipping sauce. See link above.

Prepare your grill. If using charcoal, when all the charcoal is lit and covered with gray ash, pour out and spread the coals evenly over entire surface of coal grate. Set cooking grate in place, cover grill and allow to preheat for 5 minutes. Alternatively, set all the burners on a gas grill to high heat. Clean and oil the grilling grate.

Grill the steak, turning frequently, until desired doneness is reached (medium-rare is recommended—steaks should register 125°F on an instant read thermometer when removed from grill). Remove from grill and let rest for 5 minutes.

Cut the steaks across the grain into diagonal strips. Serve with warm sticky rice on the side.
Recipe adapted from Serious Eats. Photos are author's own